Trends & Krachtenvelden
De trend is alles! Wendbaarheid, technisch vernuft en gevoel voor klant of doelgroep; dat zijn de factoren die bepalen of je stap voor stap verder komt
De serial internet entrepreneur  Boris Veldhuijzen van Zanten, komt met enkele praktijk-lessen: "Je moet incrementeel denken en vooral doen. Welnu dat is een andere wereld voor de meeste gevestigde bedrijven".
Trend analyse
Voor de meeste bedrijfskundigen, marketeers en futuristen zijn de modellen van Porter, de DEPEST analyse en tijdreeksen bekende stof.
Een alternatief, zeer toepasselijk en bovendien een vooral praktisch-communicatief model wordt geleverd door Simon Wardley.
Bij het hanteren en uitwerken van het Wardley model wordt evenwel een andere aandachtsattributie gevraagd. Een verschuiving van een rationeel vermogen naar een beeldend vermogen, van een strategisch analytisch denken naar een entrepreneurial actiegerichtheid, van een absorberen en reproduceren van kennis naar een visueel toepassen van inzichten en begrip.
The Wardley Map
To Simon Wardley, the technique's inventor, strategy can be described using Sun Tzu's Five Factors: purpose, landscape, climate, doctrine, and leadership. In that model, a wise leader has a moral imperative (a what and a why), grasps the terrain (has a map), anticipates the patterns of the forces acting on the environment, mobilizes and trains the organization in universally useful principles and makes bald and shrewd decisions that lead to victory.
A Wardley Map is a representation of the landscape in which a business operates. It consists of a value chain (activities needed to fulfill user needs) graphed against evolution (how trends and individual activities change over time under demand and supply competition).
A Wardley Map represents the situational awareness and understanding and shared assumptions being made about a context and hints at what strategic options – with the eye on perceived trends and demands – are available.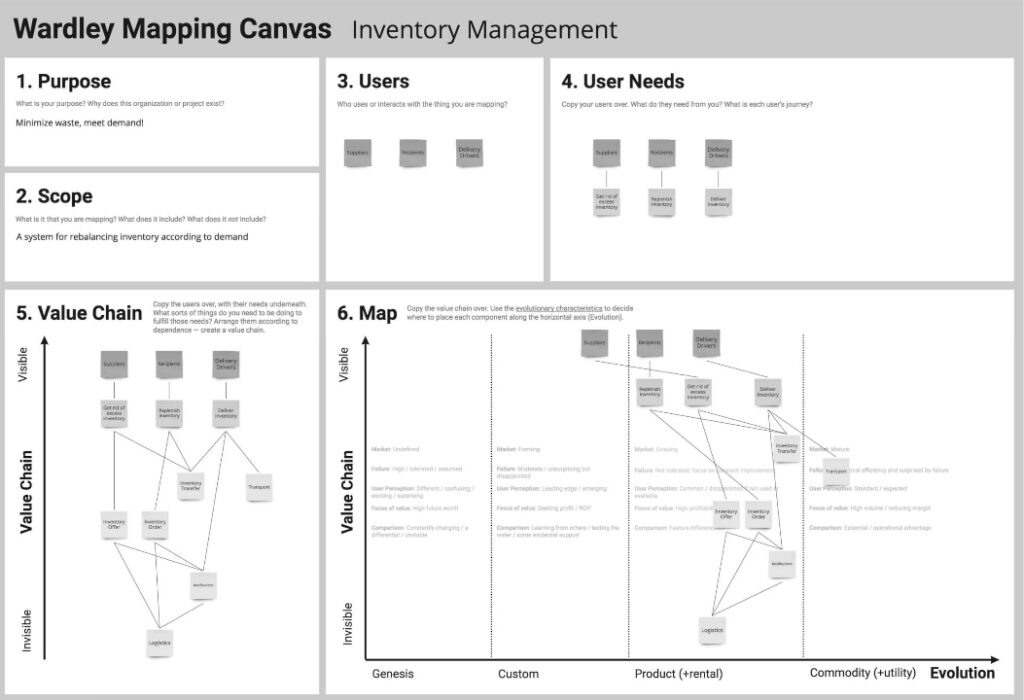 https://miro.com/blog/wardley-maps-whiteboard-canvas/ 
https://medium.com/wardleymaps/on-being-lost-2ef5f05eb1ec 
Het Hollywood-model
Voor gevestigde branches die business-as-usual willen blijven opereren is er nog een uitweg: Ze kunnen het beste het zogenaamde Hollywood-model gebruiken: Het houdt in: "Heb oog voor de bedrijfjes die met  innovaties komen waar je wat in ziet; schakel ze in of koop ze op!".
Is dit zinnetje niet meteen een goede tekst voor het businessplan of business model van gevestigde bedrijven?